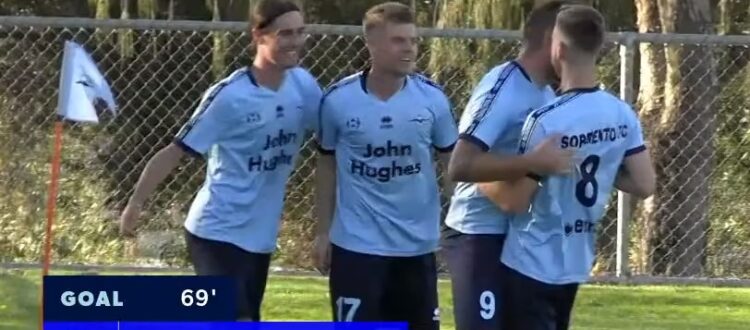 Round 7: Sorrento FC 1 Balcatta 0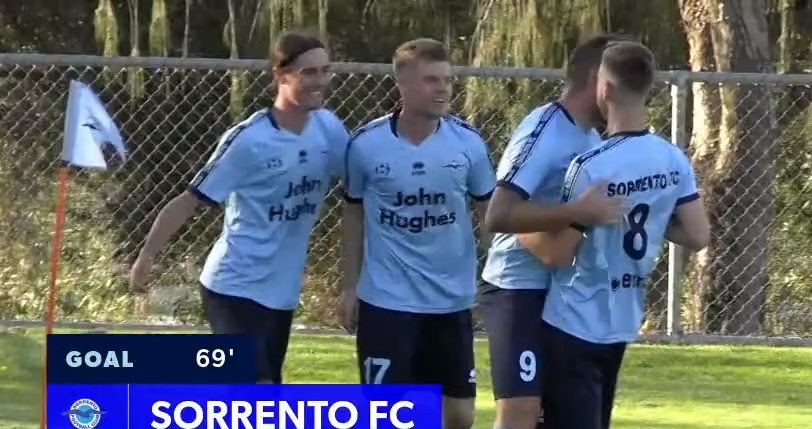 After Round 6 was postponed last week, the Gulls welcomed Balcatta to Percy Doyle stadium, hoping to keep their impressive start to the season going.
It took a while for the game to get going. The first real chance of any note was in 26th minute when a Daniel Faichney header from a Scott Robertson free kick went narrowly past the far post.
Then in the 38th minute, it looked like former Gull Amir Ajan was through and about to pull the trigger but he was stopped by a brilliant tackle from Jordan Brown.
Apart from a few half chances at both ends, the teams pretty much cancelled each other out in the first half.
The 2nd half was a different story. Sorrento started brightly and on 51 minutes, almost scored. Balcatta lost the ball half way inside the Sorrento half and Joe Tweats broke away with the ball. He played it inside to Scott Witschge who flicked it to Tim Hill. Hill headed it forward and the ball broke back to Tweats who was in on goal. He cut inside, then outside and smashed the ball against the outside of the post. It was a great piece of play that deserved a goal.
Then on 55 minutes, there was a potential game-changing moment, as Ajan lashed out at Scott Robertson off the ball right in front of the referee. Ajan received a straight red card and Balcatta were down to 10 men.
The space opened up and Sorrento started attacking down the flanks. On 59 minutes, Tim Hill released Faichney down the left. He skinned 2 players and put a ball over to the far post but it just evaded the oncoming attackers. Sorrento continued to push forward and there was a sense that a goal was coming.
On 69 minutes, it arrived. Dean Cummings hit a speculative long ball forward that was brilliantly brought down by Witschge and dispatched expertly with his left foot. A brilliant individual goal from Witschge.
Then on 80 minutes, Sorrento almost had a second. A ball out from the back was chested down by former NPL Golden Boot winner, Chris Jackson who had just come on to make his Gulls debut. The ball went through to Witschge who put Faichney through down the left. The wing back pushed the ball further to the left and then fired it over the bar.
Sorrento then closed out the game to record their fourth victory in 6 games as they stay in 4th place, equal on points with Perth SC and with a trip to league leaders Floreat Athena in one week.
Team Lineup
1. Connor Campbell
18. Jordan Brown
3. Daniel Faichney
4. Shaun Kilkelly
16. Ryan McLaughlin
5. Scott Robertson
11. Tim Hill
12. Joe Tweats
17. Dean Cummings
9. Billy Quinncroft
8. Scott Witschge
Subs: 61. Patrick Hughes, 19. Jaxon Tamata, 6. Chris Jackson, 2 David Stokoe, 7. Alex Morgan