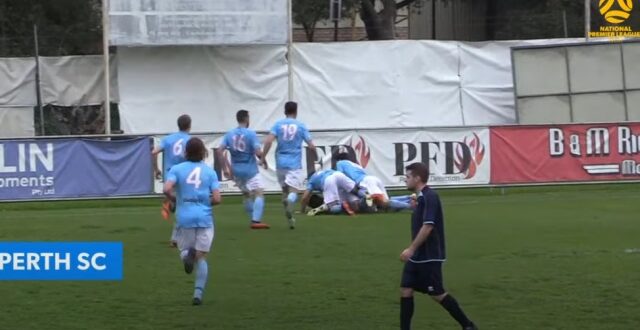 Round 20: Perth SC 2 v Sorrento 0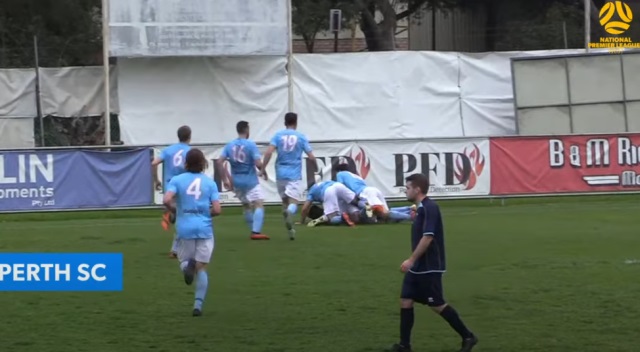 With 3 games left, Sorrento travelled to Dorrien Gardens to face a top of the table Perth SC. This was always going to be a tough game as Perth boasted a solid defence, arguably player of the season in Calvin Whitney, exciting young striker Jayden Gorman and serial goal scorer Michael Domfeh. 
The first half was goalless although keeper Matt Guidicatti made a few good saves for the away team and the Gulls put up a very solid defensive performance.
However, Perth took the lead on 63 minutes with a fast counter-attacking move where Jayden Gorman showed fantastic movement as he wandered unseen from the left and broke free down the right. It was a 2 v 2 attack as Gorman threaded the ball through to Michael Domfeh who side-footed in from close range.
Shortly afterwards substitute Daniel Faichney broke through and he was denied by a brilliant block from centre-back Lachie Byrd.
On 86 minutes, Perth scored their 2nd from a superb free-kick from Calvin Whitney.
The 2-0 loss ended Sorrento's title chances although the Gulls sit in 3rd place and with 2 games to go, are well-positioned to secure a top 4 place.
Second place Floreat Athena visit the Gulls on Saturday in a game that is likely to be close. Floreat need a win to stay in touch with Perth at the top and Sorrento need a win to secure a Top 4 place.
Come down to Percy Doyle Reserve on Saturday and cheer the lads in our last home game of the season.
Team Lineup
1. Matt Guidicatti
19. Jaxon Temata
10. Ollie Annis
16. Ryan McLaughlin
4.Shaun Kilkelly
2. David Stokoe
11. Tim Hill
7. Alex Morgan
17. Dean Cummings
18. Jordan Brown
6. Chris Jackson
Subs: Patrick Hughes, Daniel Faichney, Ethan Banks, Joe Tweats, Tristan Stevens