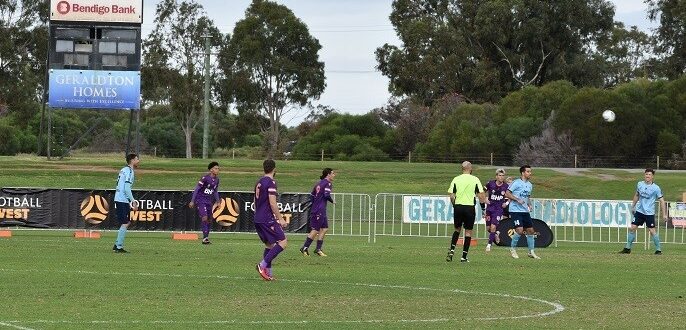 Round 10: Perth Glory 1 Sorrento FC 0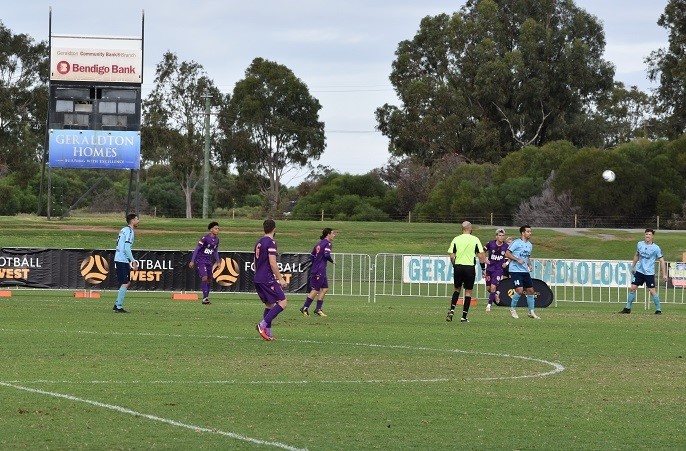 Credit to Tommy Doleman for match report.
Perth Glory and Sorrento met in the fifth Regional Festival of Football match on Saturday, the second visit to Geraldton
Perth Glory boosted their hopes of a top four finish as they defeated Sorrento 1-0 in the Mid West Festival of Football 
clash in 7 Geraldton.
The win put Glory within a point of the Gulls in the NPLWA – Men's competition and gives them a 3-2 overall lead in the five Regional Cup meetings between the sides since 2017.
The first of those fixtures was also played in Geraldton, with Sorrento winning 2-0 on that occasion. However, Glory just edged Saturday's encounter at Wonthella Oval.
They had the first chance when Ciaran Bramwell headed the wrong side of the post. And after Sorrento Jordan Brown headed straight at keeper Cameron Cook, it was Glory who threatened again through Charlie Leech and Bramwell.
Jamie Harnwell's side started the second half with better intent but it was a double substitution from Chris Coyne, including the introduction of striker Joshua Anasmo, which ultimately proved decisive.
Sorrento captain Shaun Kilkelly sliced his clearance straight up in the air and Golden Boot leader Anasmo attacked the ball and headed in his eighth goal of the season before performing an acrobatic flip in celebration.
Bryce Bafford hit the bar soon after as Glory looked for a second. But they had to survive an almighty penalty area scramble in stoppage time to hang on for the three points and put themselves in the play-off picture.
"We knew Sorrento was always going to be tough … they are a big threat in the air … but I reckon we did a great job especially the defence," Anasmo said.
"The celebration was something me and the boys talked about in training and they said I should do it if I scored."
The Gulls stay in 4th place and have 2 exciting home games to follow, an FFA Cup Quarter Final versus Armadale and a league game to Bayswater City which give the team the chance to start another 7 winning run.
Team Lineup

1. Connor Campbell

18. Jordan Brown

10. Ollie Annis

4. Shaun Kilkelly

16. Ryan McLaughlin

23. Neil Gillies

11. Tim Hill

7. Alex Morgan

14. Jordan Pokler

20. Jordan Roberts

8. Scott Witschge

Subs: 61. Matt Guidicatti, 15. Tristan Stevens, 23. 12. Joe Tweats, 9. Billy Quinncroft