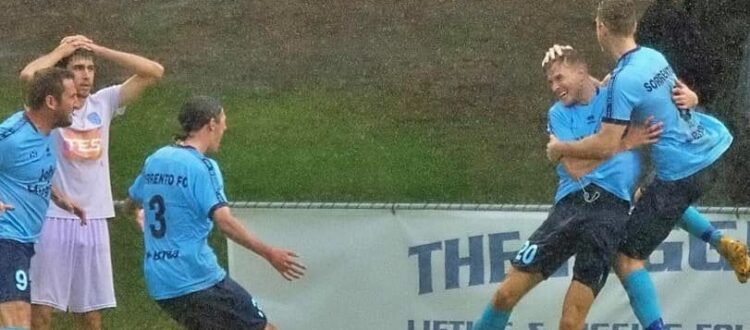 Round 9: Sorrento FC 1 v Perth SC 1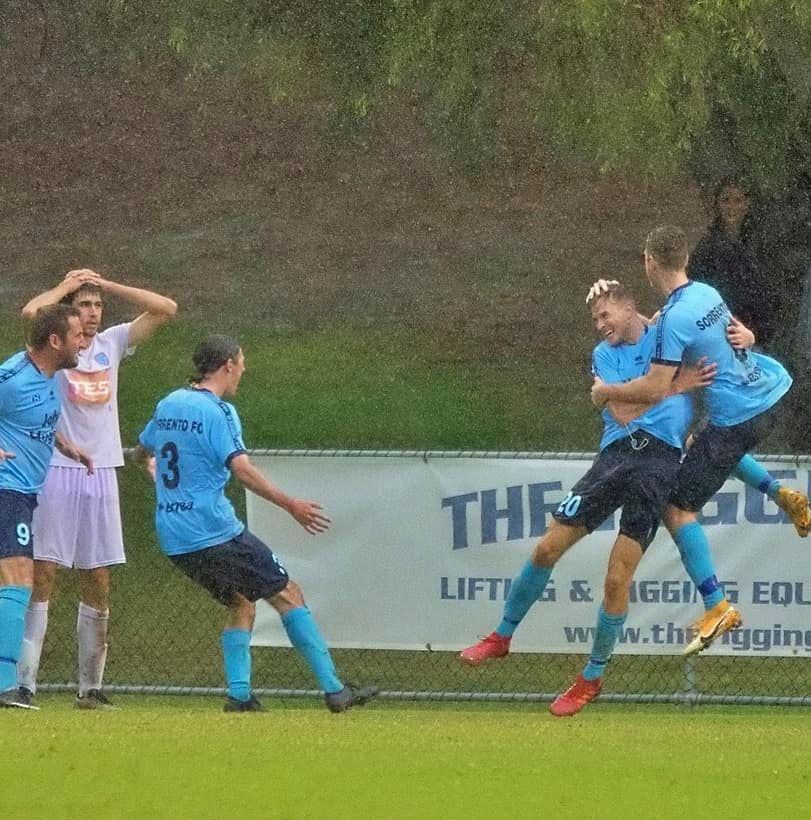 Round 9 saw 4th v 3rd as the Gulls welcomed Perth SC to Percy Doyle stadium. From the start, Sorrento took the game to Perth and on 9 minutes, a slick move almost led to the opener. A long free-kick from Gull's keeper Connor Campbell was headed down by Daniel Faichney for Scott Witschge who crossed for Jordan Brown. Brown headed across to Jordan Roberts who hit a thunderous volley from 16 yards out which Perth keeper Ryan Montgomery did well to push over the bar.
Then on 13 minutes, the ball broke to Faichney, 22 yards from goal. He skipped past McDonald but his shot was deflected over the bar by Perth defender Lachlan Byrd.
Perth responded from a corner in the 22nd minute when a Radinovic header brought a good save from Gull's keeper Connor Campbell.
With 30 minutes gone, Tim Hill in the central midfield position again swept the ball out to the left to Faichney who took on Nick McDonald in the Perth defence and hit a cross that Montgomery desperately flicked over for a corner.
The Gulls finished off the half positively with Alex Morgan just heading wide from a Scott Witschge cross.
The Gulls definitely edged the first half on chances and attacking intent.
As the second half started, the weather deteriorated and conditions became much more difficult.
Scott Witschge almost scored as he put the ball over the bar having been put through from an Alex Morgan flick-on header. A Witschge cross then almost found the net on 62 minutes as Montgomery again had to take evasive action.
It seemed to be heading for a draw when on 84 minutes, Calvin Whitney latched onto a pass from McDonald and hit a left-foot shot towards goal from 25 yards out. Campbell, unfortunately, could not keep it out but with the rain lashing and the conditions getting worse, it was a difficult shot to deal with.
The Gulls always seem to do it the hard way and with the clock showing 2 minutes of injury time, they equalised. Defender Ryan McLaughlin who has so far been one of the players of the season, found Jordan Brown on the right. His cross found substitute striker Billy Quinncroft who headed across goal for the excellent Jordan Roberts to smash in the equaliser at the far post.
The Gulls fans outside the clubhouse went mad as the Perth defenders looked on in disbelief but it was no more than the Gulls deserved and both teams had to settle for a point.
The Gulls stay in 4th place and next week travel to Geraldton to play Perth Glory NPL in the Football West Festival of Football.
Team Lineup

1. Connor Campbell

18. Jordan Brown

3. Daniel Faichney

4. Shaun Kilkelly

16. Ryan McLaughlin

2. David Stokoe

11. Tim Hill

7. Alex Morgan

17. Dean Cummings

20. Jordan Roberts

8. Scott Witschge

Subs: 61. Matt Guidicatti, 19. Jaxon Tamata, 23. Neil Gillies, 12. Joe Tweats, 9. Billy Quinncroft