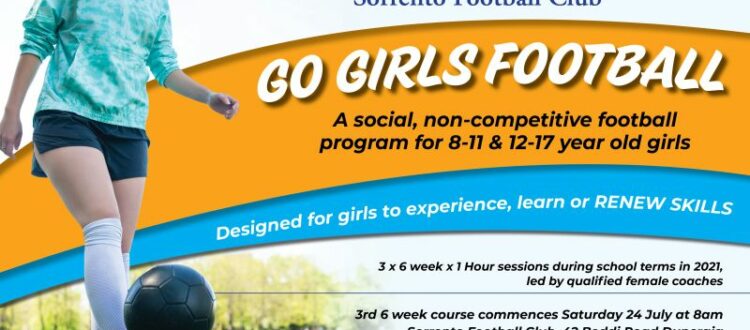 Go Girls Football and Girls SAP Program
SORRENTO FC
SKILLS ACQUISITION PROGRAM (SAP) FOR GIRLS
Sorrento FC will be conducting a SAP Program for girls aged 8 – 15. 
The SAP Program will run on Saturday mornings from 9.15 – 10 am for 4 weeks on the main pitch, Percy Doyle Reserve, 42 Beddi Road, Duncraig commencing on 24 July.
Each session will be conducted through the FA National Curriculum by the Go Girls Football Program coaches. The program is open to members and the community.
The SAP program is an additional way for individual players to develop their skills in a structured program that is not directed at game play.
Places will be capped at 20.
For further information and to register please contact:


Kaye Harnwell
Go Girls Football Program Co-ordinator
Email: