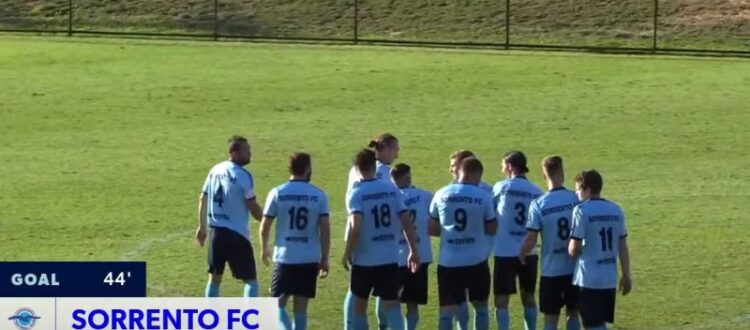 Round 8: Floreat Athena 2 Sorrento FC 2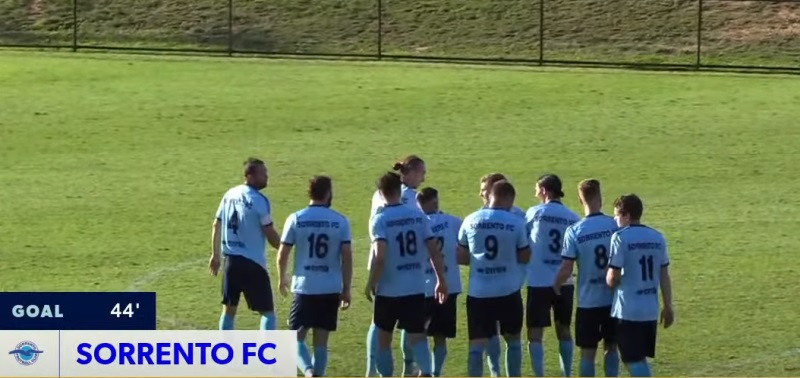 Round 8 saw the Gulls make the trip to the E&D Litis Stadium for the clash versus top of the table, Floreat Athena and before they had settled, they were behind. After only 2 minutes, Floreat won a free kick on the right-hand side of the area and Dean Evans flighted a great ball into the box, which Nicholas Ambrogio rose to head past Gulls keeper Connor Campbell.
On 40 minutes, the Gulls were level. Daniel Faichney threw the ball to Ryan McLaughlin who pumped a long ball towards Scott Witschge into the Floreat area. Santalucia misjudged the ball and the Gulls forward flicked it over the Floreat keeper Saldaris into the net.
Four minutes later the Gulls took the lead. Dean Cummings exchanged passes with Billy Quinncroft and spotted Saldaris off his line. Cummings chipped the ball from 35 yards out over the Floreat keeper into the net. It was a sublime piece of play from Cummings and really a goal out of nowhere.
The Gulls had chances to extend their lead. Quinncroft shot straight at the keeper on 55 minutes and then forced Saldaris into a good save on 59 minutes. Neil Gillies almost scored from a header following excellent delivery from Tim Hill.
The game started to get tetchy at times as the clock was running down and Floreat started getting frustrated. Firstly substitute Chris Jackson went in robustly on keeper Saldaris and picked up a yellow card together with two Floreat defenders who squared up to Jackson.
Later on young wing-back Faichney and Floreat captain Dean Evans exchanged pleasantries and handbags and both received yellow cards for their trouble.
Floreat found an equaliser in the 85th minute as another cross was launched into the Sorrento box and it fell to Ambrogio who smashed it in from close range for his second.
The game finished 2-2, the lads couldn't quite hang on for the win but a point against the league leaders is not a bad result.
Next Saturday, the Gulls play Carramar Shamrock Rovers in the FFA Cup at Percy Doyle stadium.
Team Lineup


1. Connor Campbell


18. Jordan Brown


3. Daniel Faichney


4. Shaun Kilkelly


16. Ryan McLaughlin


23. Neil Gillies


11. Tim Hill


12. Joe Tweats


17. Dean Cummings


9. Billy Quinncroft


8. Scott Witschge
Subs: 61. Matt Guidicatti, 19. Jaxon Tamata, 6. Chris Jackson, 15. Tristan Stevens, 7. Alex Morgan