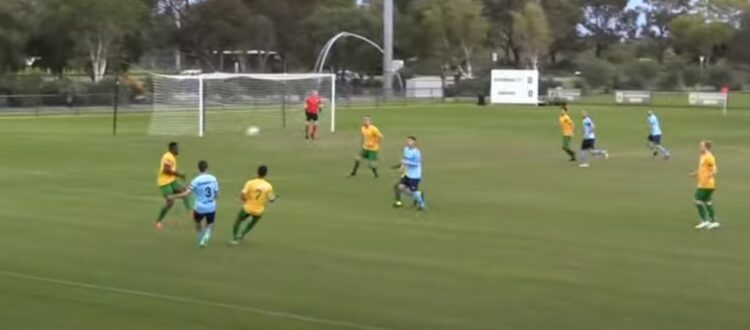 Round 6: Rockingham 1 Sorrento FC 3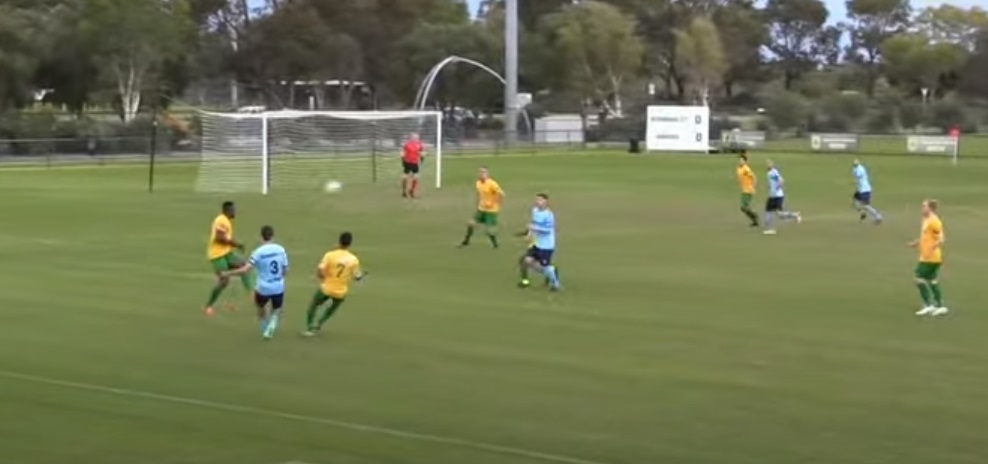 ​High-flying Sorrento FC moved into 3rd place in the NPL with a 3-1 win at bottom of the table Rockingham City in the rearranged game from Round 6.
The visitors started strongly and took an early lead in the 5th minute as Ryan McLaughlin swept the ball out to Daniel Faichney on the left. The 17-year-old wing-back took a touch and hit an inch-perfect cross into the box for Jordan Roberts to volley past the Rockingham keeper from 12 yards. That's Roberts 3rd goal in the last 5 games since he returned to the club and his partnership with Scott Witschge is getting better with every game and they are looking a real threat.
In the 30th minute, the Gulls doubled their lead with the move again starting down the left-hand side. Ollie Annis played the ball to Faichney who played a one-two with Roberts and the youngster was again through down the wing. His left-footed cross was met by Scott Witschge who headed back to captain Jordan Brown. Brown took a touch and played it back to Witschge who turned and smashed the ball in off the bar.
Four minutes later it was 3-0. A trademark Jordan Brown long throw was flicked on by central defender Neil Gillies to Witschge who headed back for Dean Cummings. The midfielder showed lightning reactions as he turned back to goal and hooked the ball past the despairing Rockingham keeper. That was Cummings 2nd goal in 2 weeks following his return from injury.
It was a really good half from the Gulls who played some great football, attacked well down the flanks and were well organised in defence.
With a 3-0 lead at half-time and an FFA Cup Semi-Final beckoning on Wednesday, the lads took their feet off the pedal a bit in the 2nd half.
Alex Morgan, Billy Quinncroft and Chris Jackson came on in a triple substitution in 68th minute replacing all 3 goal scorers as coach Jamie Harnwell opted to give them a rest with Wednesday in mind.
In the 80th minute Rockingham went down to 10 men as youngster Hamish van Dieken saw red for dissent as frustration got the better of him. In fairness to van Dieken, he had had a good game up to that point and had received a couple of robust challenges just beforehand.

Rockingham did pull a goal back late on from a corner which was disappointing as the team deserved a clean sheet but the win was never in doubt.
Morgan, Quinncoft and Jackson all had chances late on to extend the lead, as Faichney again provided a threat with his dribbles and delivery from the left but somehow Rockingham survived going further in deficit.
In other games, the 18s ran riot with a 10-1 victory with 4 from Phoenix Lee and 3 from Zech Dabbs. The 20's also won 4-0 so the Gulls enjoyed a very pleasing clean sweep.
Focus now shifts to the FFA Cup Semi-Final against ECU Joondalup on Wednesday at 7pm. Coach Harnwell will be hoping that all of his players came through that game unscathed and are fit and ready to face our local rivals in our biggest game of the season so far. 
Come down and support the Gulls for this monumental game. The lads will appreciate your support as we push to book a place in the Cup Final.
Evening games at Percy Doyle stadium always have an electric atmosphere and there is guaranteed to be a big crowd present. The 2nd versus 3rd teams in the NPL will provide an epic battle.
Why not arrive early to soak up some of the pre-match, big-game atmosphere.
61. Matt Giudicatti
18. Jordan Brown
3. Daniel Faichney
23. Neil Gillies
16. Ryan McLaughlin
4. David Stokoe
15. Jordan Pokler
10.  Ollie Annis
17. Dean Cummings
20. Jordan Roberts
8. Scott Witschge
Subs: 62 Patrick Hughes , 15. Tristan Stevens  6. Chris Jackson, 9. Billy Quinncroft, 7. Alex Morgan