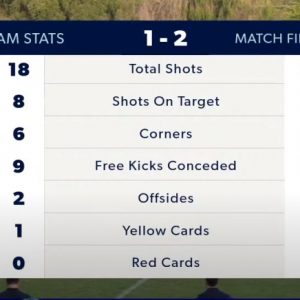 Round 5: Inglewood United 1 Sorrento FC 2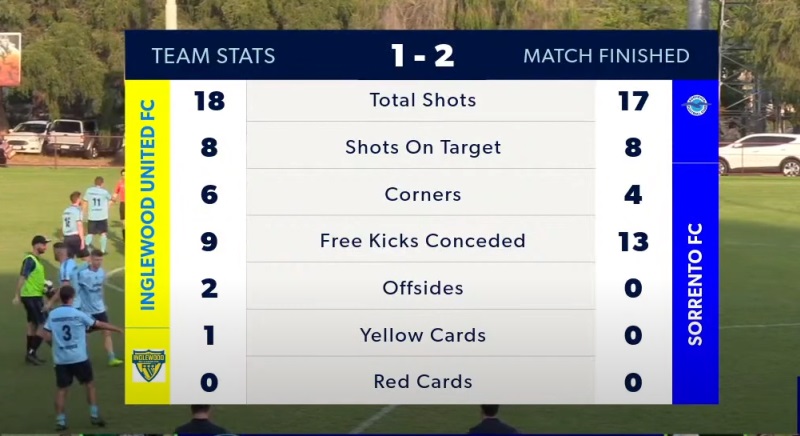 There were 2 changes for the Gulls with new keeper Connor Campbell and Joe Tweats coming into the starting lineup for Round 5.
The conditions were hot at the Plasterboard Stadium, particularly in the first half and Inglewood started brightly with plenty of possession. In the 8th minute, possession turned into a chance as Robert Petkov turned and shot just past the post.
Then in 12th minute Anthony Bafobusha fired just wide from 22 yards.
The Gulls first effort of note was from a Tim Hill drive from outside the area on 19 minutes.
Then for the 2nd week in a row, the Gulls conceded a soft free kick outside the box from which the opposition scored. Roberto Soares bended it round the wall with his left foot and despite a lunging left hand from Campbell, the ball nestled in the bottom corner. 1-0 to Inglewood.
After 30 minutes, the tide started to turn as Sorrento had more of the ball. Dean Cummings had a couple of headers on goal and Scott Witschge shot just over. You could sense something might be about to happen. Then it did.
Sorrento won a free kick in their own half and Jordan Brown was released quickly down the right. His cross was then tapped in on the far post by Dean Cummings for the equaliser.
No sooner than the crowd had settled back into their seats, Inglewood were on the attack and were thwarted by a brilliant last-ditch tackle by Ryan McLaughlin. Then Inglewood keeper Alex Dunn pulled off a great save from Jordan Brown after a good move from Sorrento.
Sorrento then won a corner as the pressure mounted and it paid off for the Gulls as striker Billy Quinncroft flicked in a header to make it 2-1 at half time.
In the 2nd half, Sorrento set their stall out to be organized and tough to break down. Robert Petkov and Steve Sokol had half chances, then on 63 minutes Daniel Faichney put Billy Quinncroft through and the striker fired narrowly wide.
With 10 minutes to go, it was great to see David Stokoe making his first appearance of the season off the bench following a shoulder injury as the competition for places increases.
There were half chances at both ends but the Gulls professionally saw the game out and grabbed what could prove to be a very valuable 3 points.
After 5 games, the Gulls have 10 points and are in 4th place in the table with a road trip to Rockingham next weekend.
Team Lineup

99. Connor Campbell

18. Jordan Brown

3. Daniel Faichney

4. Shaun Kilkelly

16. Ryan McLaughlin

5. Scott Robertson

11. Tim Hill

12. Joe Tweats

17. Dean Cummings

9. Billy Quinncroft

8. Scott Witschge

Subs: 60. Matt Guidicatti, 3. Jaxon Tamata, 15. Tristan Stevens, 2 David Stokoe, 23. Neil Gillies, 27. Jamie Swan